Doing The Right Things Right and Getting The Right Things Done.
It is not business as usual. I stopped kidding myself over the weekend, after ruminating on 'what to do now' for the last four weeks. I needed time to find my bearings and to adjust to this new normal. While my team and I have been working remotely for almost four years, this disturbance threw off our routines big time. So in an effort to practice self-care, I picked up a trusty old book, 'The Daily Drucker, 365 Days of Insight and Motivation' and made it part of my daily quiet time and meditation practice. I'd like to share with you this journey until we come out of this challenging period. I'd like to hear your stories too, so please comment below or join our conversation about how you're coping. Let this be a safe digital space for helpful nuggets and encouragement. #WeGotThis.
DISCLAIMER: This is Not a Playbook
There are tons of online resources now on how to adapt to the virtual way of doing business or on how to make productive use of your time at home. If you are taking this opportunity to do nothing, then enjoy. I find that coming out of the brief two-week hiatus, I was finally able to ask myself, "What one thing will make me feel happy and grateful today?"
---
"The responsible worker has a personal commitment to getting results."
---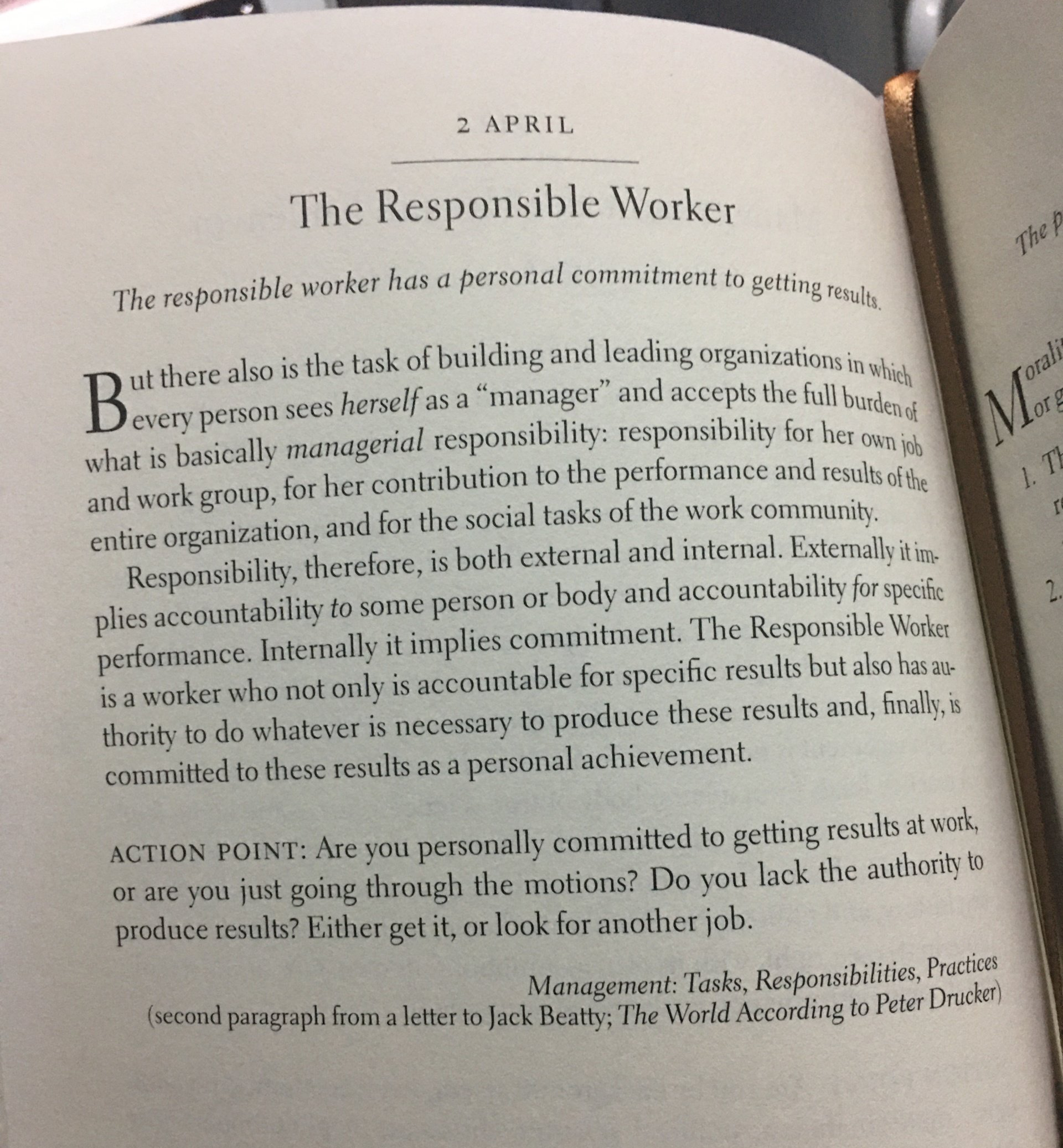 ACTION POINT:
"Am I personally committed to getting results at work or are you just going through the motions?
Do you lack the authority to produce results? 
Either get it or look for another job."
Management Tasks, Responsibilities, Practices (second paragraph from a letter to Jack Beatty; The World According to Peter Drucker)
I found that for a time it was helpful for me to have been binging on marketing tips from influencers and thought leaders. I do not wish to regurgitate every bit of material found on the first 5 pages of Google, so I simply encourage you to get your 5, 10 or 15-step action plans organized and short-list to top 3 or 5 that you think you can commit to in the next 30 days. My Top 3 are below:
#1 Just be helpful
For reasons cited above, I figured one of the best ways to do this is to share each other's burdens. This is a wide opportunity to do exactly that. One thing I love doing is reading and sharing what I learn by writing. If you find that you need to have a digital marketing-related talk, you can just follow our 
daily paper here
.  
I will be very hap
py to connect with you, too!
#2 Use this time to learn and connect
I am one to fall asleep within the first 15 minutes of any movie. I have never done a movie or TV series marathon since Dragon Ball Z in 2011. Sorry folks, you are reading the blog entry of someone who has very little exposure to Netflix. Webinars are huge and free online summits are exploding everywhere. I just picked 1-2 events per week, investing 2-4 hours of my time learning from and connecting with industry experts and leaders. I am blessed to still have the opportunity to work although our hours are severely cut. The rest of my work-hours I dedicate to my self-imposed Continuous Education Program and Health and Wellness practice. I'll be sharing book lists and YouTube channels I subscribe to in the coming days.
# Pick up a project that you have set aside for so long
Not TikTok. See #1.
If you are working remotely for the first time, take time to assess your readiness and be objective when identifying your challenges in this new work setup. Communicate with your team and be open to receive instruction and feedback. We are all works in progress here. If you are out of work or in-between jobs, be kind to yourself and take stock of your skills and plan next steps without forcing an immediate solution. Remote work arrangement is a door towards building accountability and responsibility among members to accomplish tasks and meet work expectations. Experimentation takes time and effort. Today's Daily Drucker nugget reminds me of embracing the role we signed up for, to test the sort of contribution we can make under trying conditions.
One thing I learned is to take things one day at a time. After all, even happily ever afters are lived one day at a time. 
Until tomorrow, dear friends! Stay home and be well!